Why does Kumagai use ARES CAD Software?
Why does Kumagai use ARES CAD Software?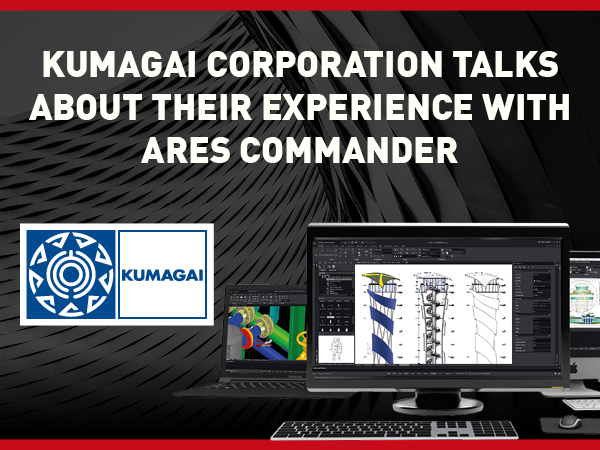 In this blog article, we'll tell you how Kumagai Gumi introduced ARES to the world. Kumagai Gumi was founded in 1898. Since then, they have made efforts to social developments for 120 years such as the modernization of Japan, the reconstruction of ruinous national land after the war, and the rapid economic growth. They also have offices in Hong Kong, Vietnam, Sri Lanka, and Myanmar. Their firm employs almost 3,000 people in total. They construct not simply a building or structure, but also a community that will be formed by the individuals that come.
"We can switch easily because it's almost the same as AutoCAD."

Kumagai Corporation
How did Kumagai Corporation learn about ARES Commander?
Kumagai has previously used Autodesk's products. However, as the number of licences grew, their costs grew as well. As a result, they began looking for compatible CAD software. They opted to use ARES in 2015 after doing competitive reviews. ARES Commander is popular because of its high interoperability, ease of maintenance, and low cost.
Upgrading the number of licenses
The number of licences has continuously increased since the launch of ARES in 2015. They updated all 180 licences from ARES Standard to ARES Commander in 2019. They upgraded to ARES Commander because they believe the number of operations in the cloud would grow.
Workers on the job site have responded well to the introduction of ARES.
"ARES can input and output SFX drawings. It's nice that the support for bugs is rapid."

Kumagai Corporation
Measures to promote ARES Commander
They use the web to announce new features, organise an online seminar, and improve explanatory materials to promote ARES Commander throughout the firm. They teach ARES instead of AutoCAD to new workers. They claim that learning to operate AutoCAD and learning to use ARES takes the same amount of time.
'Companies mostly care about cost-effectiveness in the modern world. Lower cost and higher function are demanded. They can recommend ARES as the product to meet such demand.'

Kumagai Corporation
Under top-down management, BIM is used on 80% of newly procured projects, with a goal of reaching 100% by 2021.
Existing PCs were replaced with modern, high-end PCs to correspond with BIM software. In addition, they have given all employees mobile devices to encourage them to utilise them at the site.
ARES Commander also supports point clouds and will be improved in the future to integrate with BIM. Kumagai is highly interested in how they may use such features at the site, and they anticipate being able to do so.
'ARES is not only just a low price but also addresses new fields of CAD such as linkage with BIM besides mobile and cloud. So we expect ARES is the product that will pioneer the next generation.'

Kumagai Corporation
Do you work in the construction industry as well? Are you looking for a cost-effective solution to help you enhance your productivity? Then sign up for a free 30-day trial of ARES Commander. This trial contains all three CAD solutions ARES Commander, ARES Touch, and ARES Kudo, allowing you to try Graebert's 2D CAD on your desktop, mobile device, or in the cloud. Start your free trial today and take advantage of the features.