Online CAD in DWG | Enable Free Viewing and Commenting With View-Only Links
09/02/2022
Posted by:

Graebert

Category: Videos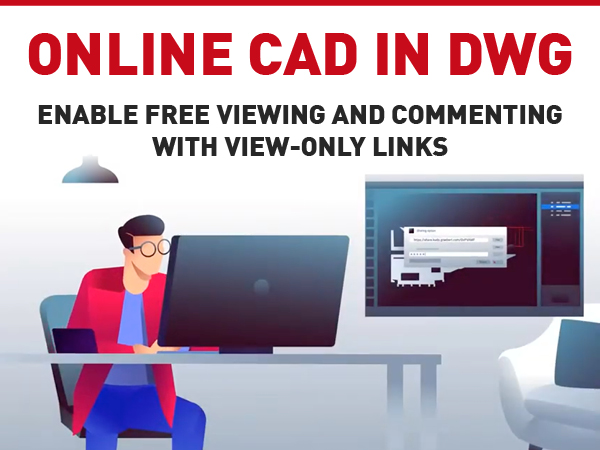 Introduction of View-only links:
View-only links are URLs created by ARES users to share a drawing online. They can be used by non-ARES users to view and comment on a specific drawing for free. They are very easy to use, as you only need to click on the link and the drawing will open in your Internet browser. Ideally, we recommend using them on a computer, because of the larger screen size.
Live-updation of View-only links:
Most importantly, they are live-updated when any modification is made. Therefore, you can be sure that you are always looking at the latest version of the file. This link becomes the single source of truth for the project. When you open that link, you will notice that there is a place to log in at the top-right corner.
Login in View-only link:
Logging in is only required to comment, and we will come back to this in a minute.
Tools and Layers:
First, let's take a look at the tools for viewing and measuring. On the right-hand side, you can find the layers palette. Here, you can check whether all the layers are visible, and hide them or show the ones you want to see.
Tab to view the model space:
At the bottom of the screen, you will find tabs to view the model space and the different sheets that have been created for this drawing. The sheets are the equivalent of printed papers.
Creation of View-only link:
When a view-only link is created, the ARES user can decide to enable printing to PDF. If this icon is grayed out, it means it is disabled for this drawing. Otherwise, you can use this feature to print the sheets into a PDF file.
Toolbar:
In the toolbar, you will find some tools to view and measure the drawing. The 3D views enable you to select different viewpoints. If the drawing is in 3D, you will see it under different angles; otherwise, the top view can bring you back to a 2D view. Alternatively, you can use the 3D orbit tool. The PAN and ZOOM are usually done with the mouse wheel. But if you don't have a mouse, you may use the features found here in the toolbar.
Inquiry tools:
Now, let's focus on the inquiry tools.
Distance tool:
The "Distance" tool will help you to measure the distance between two points. When you fly over the first and second points, you will see some snap points activating. Next, you can read the result in the command bar.
Area by point tool:
The "Area by Point" tool will enable you to pick multiple points. After selecting all the extremities, you can validate with entering and see the calculated area and perimeter.
Co-ordinate tool:
With the "Coordinates" tool, you can select one point and see its coordinates.
Get Entity properties tool:
Finally, the "Get entity properties" tool will enable you to select one or more entities to see their properties.
Commenting by making Graebert account:
Now it is time to come back to the log-in. Commenting on the drawing is also free, but first, you will need to authenticate yourself to let the other users know who made the comment. Therefore, you are invited to create a Graebert Account if you don't have one already. It is totally free, and you will obtain a login and password you can use here. Besides, after creating the account you will also benefit from a free 30-day trial for the ARES Trinity.
After login:
After logging in, your name will appear at the top-right, and a new icon appears for Comments. This icon opens a side palette. Depending on your rights on this file, you will either see only your own comments or all the discussions.
To see all Comments:
To see all the discussions, you need to have editing rights on the drawing. This is the case for the user Paul Bond, who is invited to follow the work of the design team, although he has no paid license and can only view and comment.
Comment creation:
Speaking of which, let's add our first comment. We can start by adding entities to highlight what we are going to discuss. The easiest way is to make a window with 2 points and to validate with entering. Next, we will write a title and description before hitting the Save button. Now we see our comment is created, and the loupe will zoom to the selected entities.
Markup:
The second tool is the markup feature. Markups enable you to comment with pictures, voice, or stamps.
Picture Recording:
The Picture Recording will enable you to insert one or more pictures.
Voice Recording:
The Voice Recording makes it easy to record your speech, which is always faster than typing a long text.
Stamps and Advantages of Markup:
Finally, the stamps can be used to comment with ready-made texts, or you can create your own. As you can see, the markups make it very easy to share feedback directly in the context of the drawing. Another benefit is that the markups do not modify the drawing. You can freely share your feedback without any fear of doing something wrong.
Markups and Comments improves collaboration:
As it is live-updated, the view-only link makes it easy for you to follow the progress. And the opportunity to comment and markup significantly improves the collaboration. Whenever you make such comments and markups, other ARES users will instantly see them when they work on the drawing. In addition, they can also receive email notifications like this one, and therefore react to your feedback more quickly.
Generation of View-only link:
View-only links like this one can be generated from ARES Kudo, our Cloud version, but also from ARES Commander on computers, and ARES Touch on mobile devices.
Advantages of Creating Graebert Account:
If you want to try to create links like this yourself, you just need to create a Graebert Account and you will enjoy a free 30-day trial for ARES Kudo, ARES Commander, and ARES Touch. You can visit www.graebert.com to learn more about the ARES Trinity of CAD software.