Professional CAD Software for 2D Mechanical Design in DWG
ARES Mechanical is a Mechanical CAD software combining the DWG-editing features of ARES Commander with industry-specific features for 2D Mechanical Design.
It is an intuitive, fully customizable and comprehensive CAD solution for Mechanical CAD designers and engineers.
Available in 5 languages:
Available for Windows only (64-bit) - in English, German, Polish, Japanese & Korean
DWG for Mechanical:
2D drawings with support for AutoCAD Mechanical entities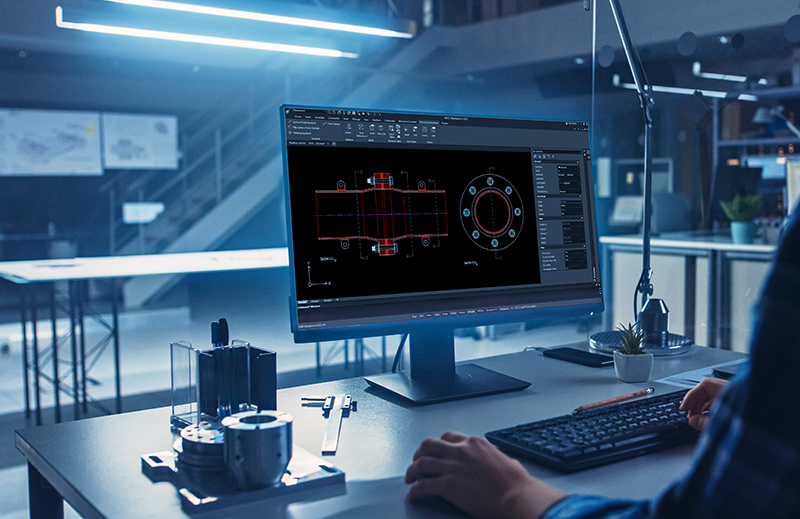 With the new ARES Mechanical you can:
Specific Inbuilt Tools & Functions for Mechanical Drafting
A Full Set of Mechanical features
to Speed up the Production of your 2D Drawings in DWG
ARES Mechanical provides an extensive toolset to meet the needs and demands in mechanical 2D drafting – combined with ARES Commander's 2D/3D DWG-editing features.
ARES Mechanical is especially designed for the needs of 2D mechanical CAD users and for those who use 3D CAD occasionally. Whether you are a Factory Layout Planner making floor plans to place machines with efficiency in mind or a Maintenance Engineer making revisions to existing DWG drawings, ARES Mechanical has the right set of tools to help you get the job done. Conceptual Designers can use ARES Mechanical for creating quick sketches or technical drawings.
More generally, Designers can use ARES Mechanical to create detailed 2D mechanical drawings ready for production. ARES Mechanical meets the needs of a wide spectrum of technical drawing users.
For Windows only (64-bit) – in English, German, Polish, Japanese and Korean

Key Features of ARES Mechanical
Mechanical Standards
As a first step you should consider to select a Mechanical Standard for your project. ARES Mechanical supports international standards such as ANSI Inch, ANSI Metric, BSI, DIN, ISO and JIS. The chosen standard will activate pre-defined settings for your drawing in terms of styles, layers, frames and parts libraries.
Alternatively, ARES Mechanical is flexible enough to start a project without defining the standard. You would then make your choice from the part libraries when inserting your first components.
Companies can further define their own standards as copies and/or extensions of existing international standards.
Find the Standards dialog in the Toolbox tab of the Mechanical workspace: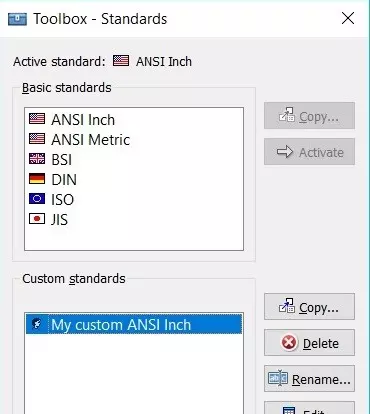 Mechanical Parts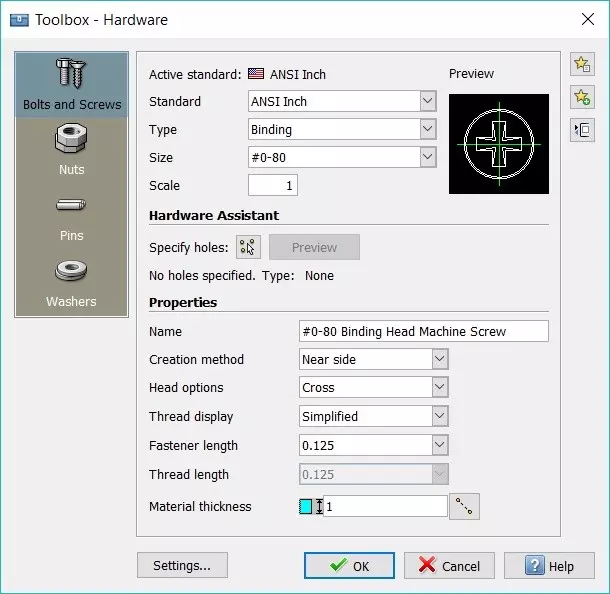 ARES Mechanical includes ready-to-use mechanical part-libraries such as: Bolts & Screws, Screw Connections, Nuts, Pins & Washers, Hole & Hole Table, Hole Callouts.
You will find these parts in the Toolbox ribbon of the Designer-planer workspace. They are pre-configured and standardized based on the mechanical standard you have chosen for your project.
These smart entities will help you to speed up the design and make sure it is compliant with the chosen standard. They will also further be recognized for the creation of your BOM.
The Toolbox ribbon includes other mechanical features such as symbols for surface and welding; Balloons and Bill of Materials (BOM) and Revision Tables.
Mechanical workspace
We created a dedicated user interface optimized for Mechanical Design with quick access to all the features you need. The Mechanical ribbon highlights  in the first tabs the top level features needed for a quick sketch of a new drawing.
In the Toolbox tab of this ribbon you will also find most of the mechanical features such as the part libraries, holes, screw connections, BOM, symbols and revision tables.
If you don't like ribbons, the "Classic" workspace is replacing the ribbon by menus and toolbars.
All the features of ARES Commander remain also available. If you are not working on a mechanical project you may simply switch to the "Drafting and Annotation" workspace for 2D or to the "3D Modeling" one for 3D.
Advanced users may also simply use keyboard commands with any of these workspaces.
Easy switch to the Mechanical workspace optimized for Mechanical Design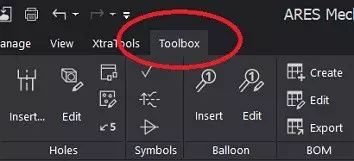 In the Mechanical workspace you will find the Toolbox tab with all the Mechanical features
Automated Layers Management

ARES Mechanical will automatically create the layers as your draw, based on the chosen standard and the entities you will use. Mechanical entities will therefore be grouped on specific layers as required by the standards.
Besides significant time-savings, it will unify the style of your drawings, and make sure they are standard-compliant. Nevertheless, you can further customize the predefined layer settings to adapt to your company needs and save your preferences.
Construction Lines
Construction Lines (vertical, horizontal or at a defined angle) are easy to maintain, they are on a predefined layer and can be switched on or off as and when required. They are easy to pick and can be combined with our Power Trim feature to help you accelerate your design.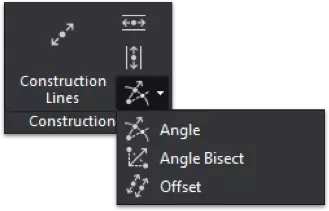 Rectangle with dimension
ARES Mechanical includes some other smart features such as rectangles with dimensions. This feature would let you draw a rectangle and automatically add dimensions.
Predefined Hatches
Mechanical design conventions require that you use specific hatch patterns in the sections of your mechanical drawings. These hatch patterns help to standardize drawings and define the material of the elements.
You can now use Predefined hatches in your designs. Many commonly used hatch patterns are included, which can be further customized based on your requirements.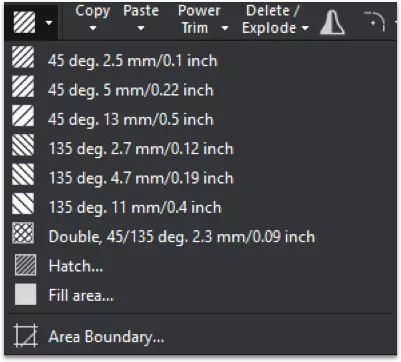 Power Trim
Trim or extend entities faster than with any other CAD Software. Trim multiple entities at once simply by moving your mouse around. Just describe a path with your mouse and ARES Mechanical will trim entities while you move the mouse. You can even use the shift key with Power Trim to Extend entities.
ARES Mechanical includes also all the features of ARES Commander. Visit the New features page of ARES Commander for an overview of the many innovative CAD features inside.
For Windows only (64-bit) – in English, German, Polish, Japanese and Korean
A Professional Mechanical CAD Solution Powered by ARES®
Including All the Drafting Tools You Need
ARES Mechanical is powered by ARES Commander, Graebert's popular DWG-based multi-platform CAD solution, trusted by million of CAD professionals. So with ARES Mechnical you have access to all the inbuilt CAD functionalities and commands of ARES Commander.
+ A full DWG-based CAD software with hundreds of CAD features
+ Familiar user interface for any CAD user
+ Add, modify or delete information using the drafting tools
+ Create or modify any DWG drawing – without the need to use ARES Mechanical's toolbox
ARES Mechanical can be purchased with or without Trinity. If you buy a Trinity license for ARES Mechanical, your subscription will also include 1 year of ARES Touch, our mobile version.
Mechanical features are not yet supported in ARES Touch. Yet it includes a full set of features to read, share, and markup your project drawings on site using a smartphone or tablet.
ARES Mechanical can be purchased with or without Trinity. If you buy a Trinity license for ARES Mechanical, your subscription will also include 1 year of ARES Kudo, our Cloud version.
Mechanical features are not yet supported in ARES Kudo but you can use it to access your drawings online and edit them with many 2D DWG-editing features.
ARES Kudo is also helping you to synchronize your projects across your computers and devices via the Cloud storage palette inside ARES Mechanical.
ARES Mechanical is a good example of the vertical applications that developers can create with the ARES OEM platforms. This solution combines Graebert's CAD features available in ARES Commander with Mechanical features, support for industry standards and a customized user interface.
If you are a development company you can click on the following button to learn more about using ARES as a development platform for your CAD software:
Discover more Graebert Software