2D DWG-based CAD software for Windows®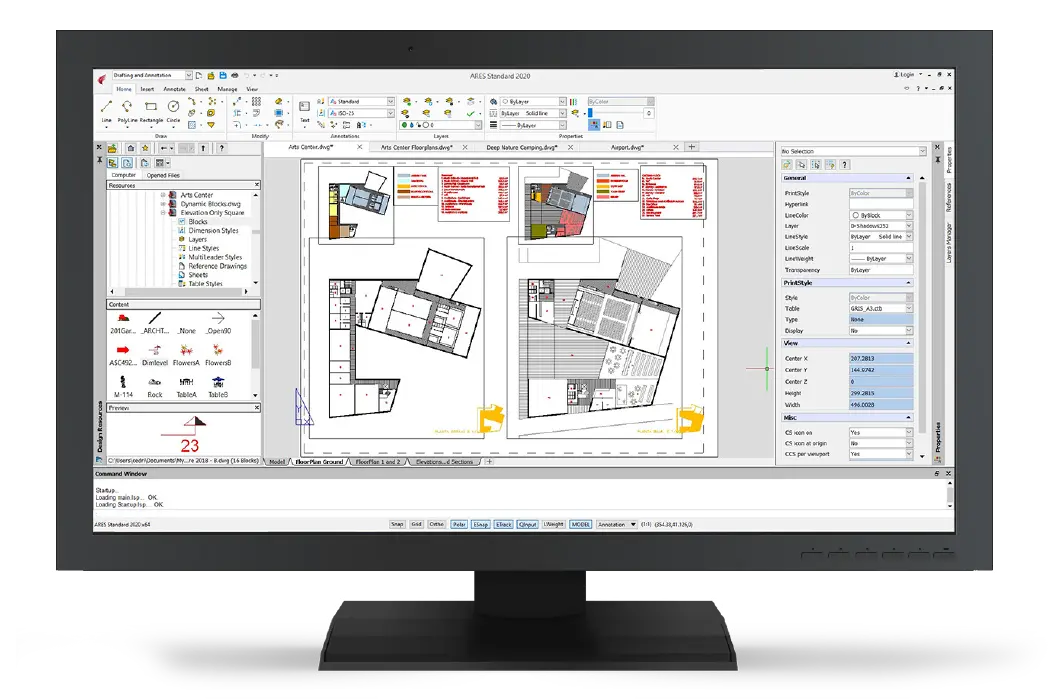 Based on the same CAD platform as ARES Commander, ARES Standard is a CAD software aiming at the users who occasionally need to create or modify 2D drawings in the DWG format. It includes a full set of the CAD features you can expect for 2D drafting, at a very affordable price.
Available for Windows only



Available in 4 languages:

Go full-featured 2D/3D with ARES Commander
Much more than a cost-effective alternative for DWG-editing, ARES Commander is making no compromises in features and innovations. If you are looking for a comprehensive CAD Software, ARES Commander is a switch made easy – providing a familiar look & feel that is intuitive for any experienced CAD user. 
Top 5 reasons to use ARES Standard
View, print or modify DWG drawings created with ARES Commander, AutoCAD® or other DWG-based CAD software
Create your own 2D drawings in DWG format with layers, blocks, dimensions and a full set of 2D tools
The performance and reliability of the ARES® CAD technology trusted by Millions of professionals
Very affordable pricing, including the possibility to buy Perpetual licenses
Familiar user interface offering an easy switch from AutoCAD® or other popular CAD software
Compare ARES Commander vs. ARES Standard
NB: This table is focused on the differences, the rest of the features are the same.
ARES Commander
ARES Standard
Supported Operating systems
Windows 64bit
macOS
Linux
Same license works for Windows, Mac & Linux
License types
Perpetual license or Perpetual Flex license (network)
Annual Plan (1 year term license) or Annual Plan Flex (network)
3 Years Plan (3 years term license)
Utility tools & Productivity features
Associative Patterns (aka Arrays) Watch Video
Curved Text
Drawing Compare Watch Video
XtraTools (42 productivity features) Watch Video 1
and Watch Video 2
Blocks, Dynamic blocks and 2D Parametric design
Blocks and blocks with attributes
Use Dynamic Blocks created with AutoCAD Watch Video
Convert Dynamic Blocks into Custom Blocks Watch Video
Create Custom Blocks (equivalent to Dynamic Blocks) Watch Video 1 and Watch Video 2
2D Constraints – Geometric & Dimensional constraints Watch Video
3D CAD features Watch More Videos
View 3D files saved in DWG
3D Solid Modeling – Create & Modify 3D solids Watch Video
CAD features for BIM projects
Import Revit and IFC files + BIM navigator to filter BIM entities Watch Video
Read BIM properties in Properties palette Watch Video
BIM data extraction to tables and Excel Watch Video
Extract 2D drawings from BIM project Watch Video
Maps for ARES Commander service powered by Esri Watch Video
Geo-referenced coordinate system or projection
Locate/Search for any place on Earth
Base Maps: satellite image, street map, topo map
ARES Trinity of CAD features for better collaboration Watch Video
Commenting palette & Markups Watch Video
Cloud Storage palette to synchronize drawings across users and their devices Watch Video
Share drawings as free View-only links to view and comment drawing online Watch Video
ARES Touch (Mobile version) for Android and iOS Watch Video
ARES Kudo (Cloud version) Watch Video
Advanced Printing Options
BatchPrint – Print multiple drawings on a Printer or into one PDF file
PCX Support / PC3 Import
Sheet Set Manager – Publish Sheet Set to PDF and printer
Sheet Set Manager – Fields for Sheet Sets
Optional ARES Plugins (Additional costs will apply) Watch More Videos
ARES Render – Real-time photo-realistic 3D rendering Watch Video
UNDET Point Cloud – Import & Manage Point Clouds Watch Video
Application Programming Interfaces
LISP
Visual LISP
COM
FDT (C/C++) – Legacy (old) ARES API
Tx (C/C++) – Core ARES API, works also with Kudo and Touch
FxARX (C/C++) for compatibility with ARX
Microsoft VSTA
Microsoft ActiveX
NET
Millions of professionals are using CAD software based on ARES Commander:
Developers will find a powerful API with support for various programming languages including C++, Tx, lisp, 
VSTA, DCL, Visual Studio, COM, Active X.
The ARES Trinity API brings C++, LISP, DCL and Qt on all three platforms: ARES Commander (Windows, Mac and Linux), ARES Touch (Android and iOS) and ARES Kudo (Cloud). Developers will find an easy path to migrate code initially created for Windows-based applications to Cloud and Mobile as well. Graebert aims at offering developers a very cost-effective programming environment to maintain the same core features on multiple platforms.
DISCOVER MORE GRAEBERT SOFTWARE