Modern DWG Editing for Desktop, Mobile and Cloud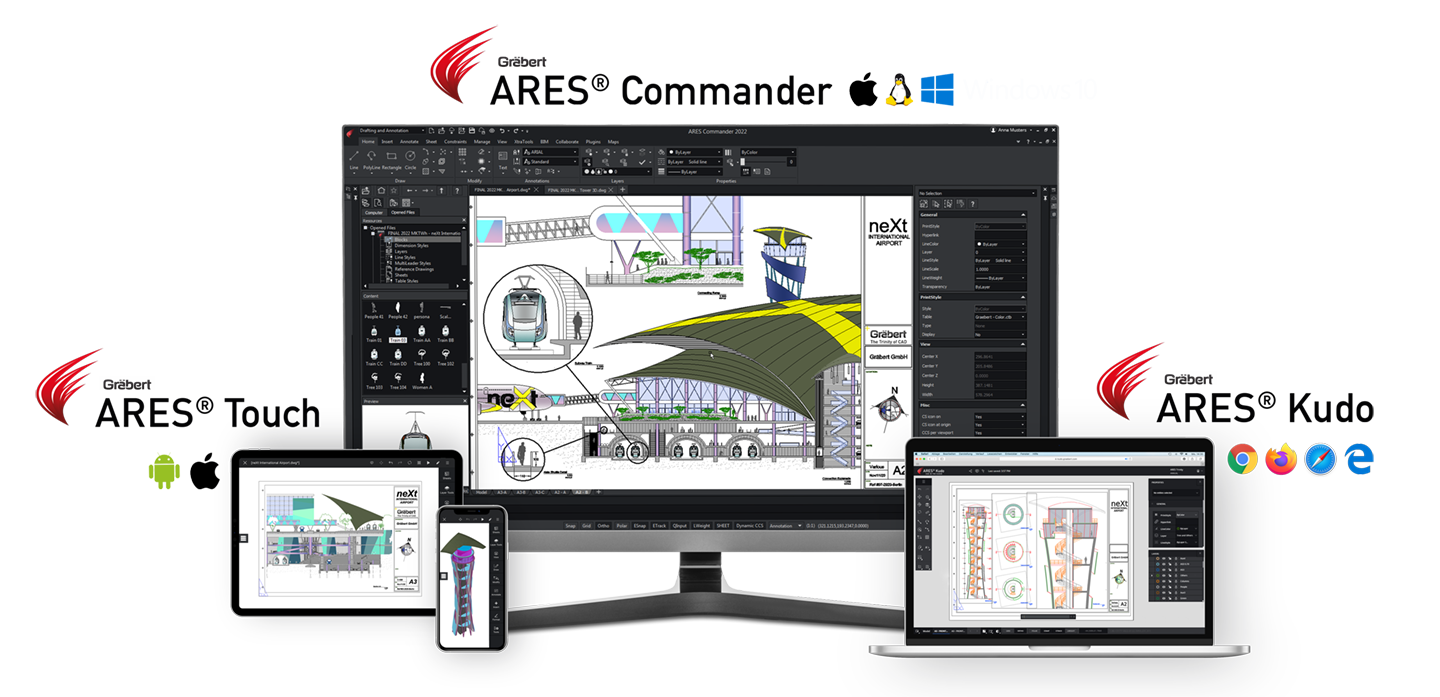 Discover the unrivaled agility of our Trinity of CAD concept. With ARES Commander you keep enjoying the comfort and performance of fully-installed CAD software for your daily work. Yet, the close interaction with our mobile and cloud versions bring your productivity to the next level.
Drawing Compare Enhancements
Compare two versions of a drawing to display the differences with colors
The Drawing Compare palette allows you to compare the current drawing
with another one. Now, you can also compare files stored in your cloud storage. For example, compare a local file with a new version in cloud storage to understand the differences. You can also compare two files in the cloud, or two local files.
Offline Commenting
Now you can also use the Commenting palette with local files
Previously, the Commenting palette was only available for files in cloud storage and saved in Graebert's online service; offline commenting extends the feature to your local files. Comments are stored in a dedicated file, which is saved in the same location as the drawing.
Printing and Sheet Sets
Large projects, by their nature, entail printing large numbers of drawings and sheets. Whether the final destination is paper or PDF, printing multiple versions can quickly become a confusing hassle. The Sheet Set Manager helps you configure a set of drawings to be printed for your project with different sheets. You can reorganize these sheets in subsets, to print them in proper order although they are coming from different files. Your project is always ready to print, even if multiple users are working in parallel on multiple files.
Graebert has also redesigned the print experience to boost productivity and provide a seamless transition for those new to ARES Commander. With familiar interfaces, AutoCAD users and ARES users will find it simple to collaborate on projects created in either product.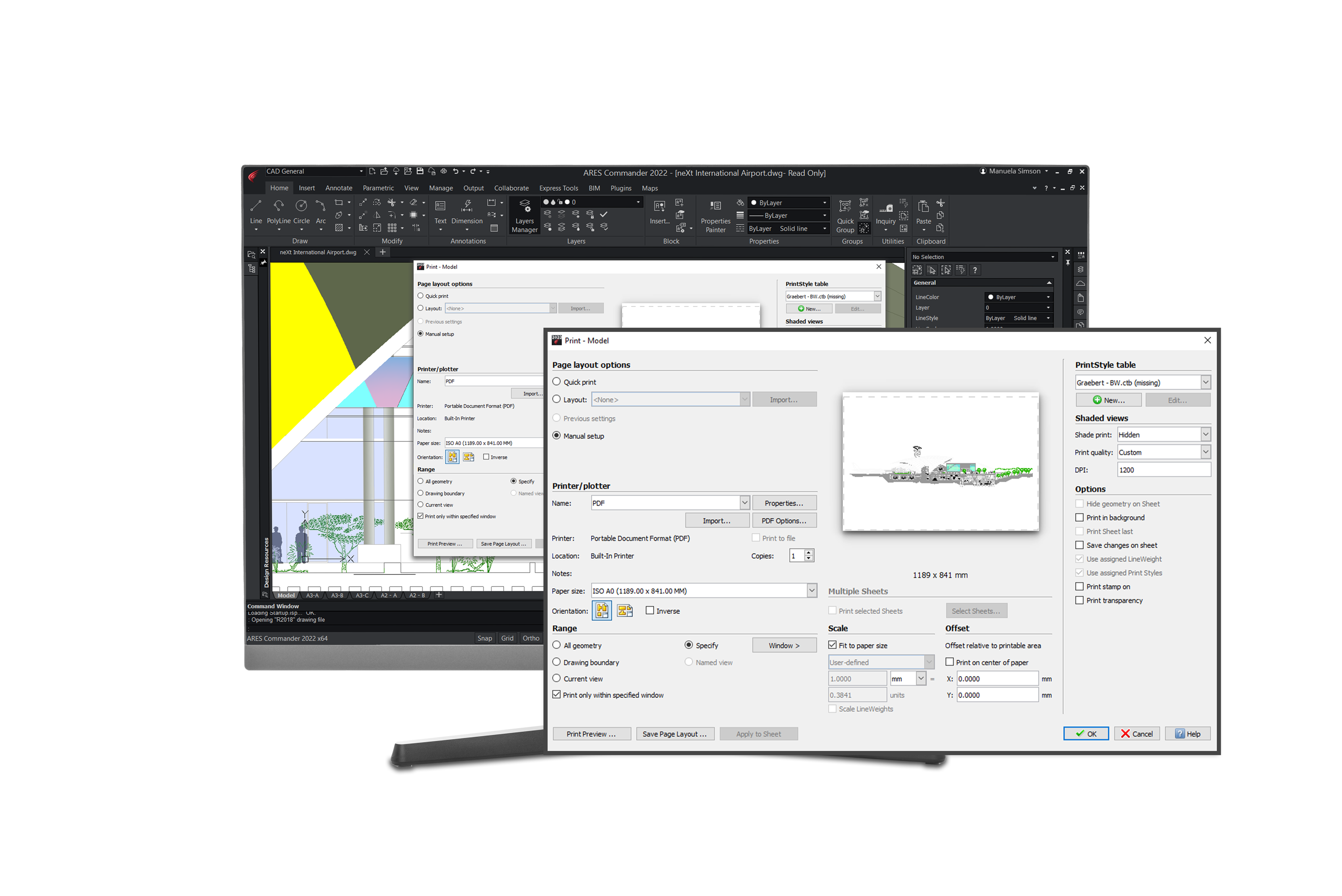 Redesigned Print Experience
Revamped Print dialog and new dialog for PDF options
User interface improvements enhance productivity and offer a more intuitive experience for users migrating from other CAD software, such as AutoCAD. The built-in PDF printer now includes a new dialog for PDF options; users can control the quality of vector and raster images, add layers, and add hyperlinks or embed TrueType fonts in the PDF files they create.
Use and Share DST files
Import, modify, and share sheet sets
Support for the DST format enables users to share sheet set configurations with other ARES users or with other CAD applications, including AutoCAD and similar software.
Sheet Set Manager
Use the new Sheet Set Manager to create, organize, and manage sheets from multiple drawings
Create/Modify Sheet Sets
Group sheets with layouts from different drawings, and use templates to create new sheets. The whole project is neatly organized in one place (even if users are working on different drawings), and ready to print at any time.
Manage Fields & Properties
Customize callouts, view labels, and title blocks using shapes and fields/properties.
Publish Sheet Sets
Print a set of drawings to PDF or to paper
Choose either PDF or paper for your output, then print the entire project (or just a subset) in a single operation. The publishing process will run in the background, and won't interfere with your work.
Create Templates with Sheet Sets
Further increase your productivity by creating DWT drawing templates combined with sheet sets
The DWT format is used in ARES or other CAD software to configure ready-to-use templates pre-configured with layers, styles, blocks, layouts, and more. Learn in our video how you can combine this with the new Sheet Sets features.
New Options for Spline Entities
SPLINE and SPLINEDIT commands are enhanced
Splines can now be defined with either fit points or control vertices. The new SPLINEDIT modifies the parameters and properties of splines, or converts spline-fit polylines to splines.
Copy Nested Entities
Directly copy drawing entities that are nested into a block or xref
Do you need to explode a nested entity before you can copy its elements? Not anymore!
The new COPYNESTED command (alias NCOPY) duplicates drawing entities that are nested within blocks or xrefs, and places copies in a location you specify.
New BIM features in ARES® Commander 2022
Smarter DWG Drawings for BIM Projects
In version 2020, Graebert launched a plan to bridge the industry-wide gulf between CAD, with its 2D drawings, and BIM, with its 3D models. With new drawings features launched in version 2022, ARES Commander advances toward the goal of being the best-in-class CAD platform to document BIM projects
Available for Windows 64-bit, macOS and Linux
Two decades after its introduction, Building Information Modeling (BIM) software is widely recognized as a smarter way to collaborate around construction projects — yet even in the organizations that heavily employ BIM, there are still 3 to 10 times more CAD users producing technical drawings.
As it turns out, the need for 2D drawings is being driven — not diminished — by the rise of BIM. Drawings help to document BIM projects with a higher level of detail, which is especially important for execution, operations, and maintenance purposes. Highly detailed 2D drawings are also much easier to assess and validate than 3D BIM files, where information can be hidden in properties,
representing a serious legal liability in files shared with customers.
Consequently, there is a substantial need for 2D documentation today — and for better quality than the limited 2D outputs that BIM software can generate.
To create higher-quality 2D drawings with less effort, Graebert is equipping ARES Commander to extract the rich data stored in BIM objects and use it to automate drawing production. ARES Commander is the ideal platform for this initiative, because it preserves all the BIM information in drawings and retains associativity with the BIM model.
BIM Drawings Automation: Material Mapper
Automate the documentation of your BIM projects by pre-configurating the style of drawing entities generated from the BIM project.
Assign a specific color, hatch, or graphic style to a material just once, and all drawings will receive the correct graphics styles automatically. For example define that a certain type of walls would always be shown with a specific hatch.
BIM Drawings Automation: Labels
Automate the creation and update of labels for doors, windows, stairs, or virtually any entity created from the related BIM project.
Your labels will display the BIM data properties and graphics you choose,
and will automatically update whenever the BIM model is refreshed.
BIM Drawings Automation: Dimension Chains
Create smart aligned dimensions for a wall or any selection of BIM objects in your BIM drawings. These dimensions will automatically update.
Save time and speed drawing production by dimensioning selected enti-
ties automatically rather than manually.
BIM Features for Mac & Linux Too!
All the BIM features of ARES Commander are now also available for Mac and Linux users
Version 2022 makes features that were previously available only on Windows 64-bit also available for Mac and Linux. The BIM features are however not available for Windows 32-bit versions.
New Trinity features for subscribers in ARES® Commander 2022
Modern Collaboration Features for DWG Projects
The ARES Trinity unites Desktop, Mobile, and Cloud CAD into one cohesive solution, improving collaboration among team members and project stakeholders in any location, working on any device. In version 2022, users can more easily track their collaborators' input: email notifications announce drawing changes by colleagues, and multimedia feedback can be collected from contacts via View-only links. To reduce the challenges of moving files among collaborators, version 2022 features expanded online storage options, including the free ARES Kudo Drive and more third-party integrations.
The largest choice of integrations to connect to your CAD data
The value of a modern CAD environment can only be unlocked when we connect our CAD tools to your data… wherever you decide to store your DWG files.The ARES Trinity is integrating closely with the APIs of all major cloud based services. For companies using AWS, we also provide direct integrations with company-owned S3 buckets as well as file collaboration solutions, such as Nextcloud.
And for companies that require dedicated servers, we offer the possibility to work with on-premises data. Through a dedicated link, our products can be connected to these private servers, leveraging the WebDAV protocol.
No matter the implementation, it is very important to us that customer admins have full control and can restrict which storage solutions are allowed within their company.
ARES Kudo Drive
Free online storage and ready-to-use DWG samples in the new ARES Kudo Drive make it simple to get started, whether you're a longtime Commander user or brand new to ARES CAD software.
Have you explored the Trinity features in ARES Commander, ARES Touch, and ARES Kudo?
Cloud storage improves file security, accessibility, and version control. Because files are synchronized across users and devices, you can start a project on your office computer and seamlessly continue it on a smartphone or tablet in the field, or on a computer at home.
Wherever you are, you'll always be working on the latest version, and you can view the file history and restore older versions as needed. Eliminate file-transfer challenges by sending View-only links to collaborators, and collect their feedback in the form of photos, voice recordings, and text comments. Maintain control over your files, no matter how many people are involved on a project, by managing and revoking access permissions at any time.
Enhanced Integration with Google Drive
Support for Google Drive Shared Drives and integration of ARES Kudo with Google Workspace
Business and Enterprise users of Google Drive can now use DWG files in Shared Drives in addition to the files stored in My Drive.
Integration with Google Workspace also enables these users to open and edit DWG files online with ARES Kudo, directly from the web version (drive.google.com).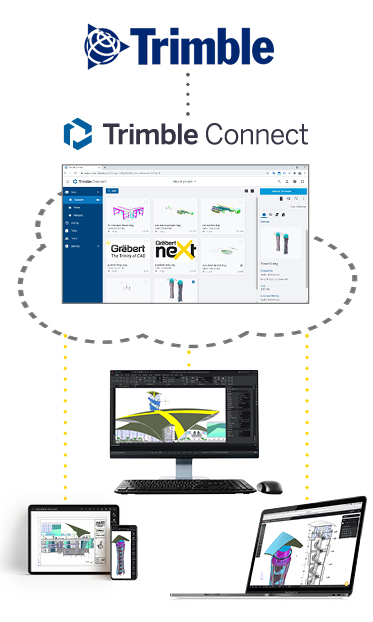 New Third-Party Cloud Storage Integrations
Create and modify DWG files stored in Trimble Connect, Hancom Space, and Microsoft SharePoint
Trimble Connect
The ARES Trinity enables a seamless workflow for Trimble product users. They can store their DWG files in Trimble Connect and edit them in ARES Commander, ARES Kudo, and ARES Touch without having to constantly download and upload files like with other DWG-based CAD software. The files stay centralized in Trimble Connect, and user access controls prevent simultaneous changes.
Hancom Space
Users of Hancom Office, South Korea's leading office productivity suite, can work with files stored in the Hancom Space collaboration hub without leaving ARES Commander, Cloud, or Kudo.
Microsoft SharePoint
In addition to files hosted in Microsoft OneDrive and OneDrive for Business, the ARES Trinity now supports direct creation and editing of DWG files stored in Microsoft SharePoint.
Email Notifications
Users can now choose to receive email notifications when the drawings they are working on are modified, commented on, or marked up
Manage notifications preferences
Select from four levels of notification frequency, ranging from never to after every modification.
All the recent changes in an email
Each organized report covers all recent changes to the drawing, including a drawing thumbnail, history of modifications by each user, and comments and markups.
Transcription of Voice Markups into text
Any comments made as voice recordings will be automatically transcribed and included as text.
Auto-tagging of Picture Recording Markups
Photos or images inserted via the Commenting Palette are analyzed by AI, and automatically tagged if they contain such elements as people, text, or inappropriate content.
Open file from the email
Want to take action after reading the notification? A direct link will help you to open the file in ARES Kudo. Alternatively the system will offer to open in ARES Commander or ARES Touch, if they are installed on your device.
Version History
See the history of who modified your drawing and compare versions to see what is new, or revert changes to restore an older version
Maintaining multiple versions of a file can cause confusion and lead to rework. Streamline your workflow and reduce the chance of errors by keeping the entire drawing history in the same file.
With Version History, you can go back in time in the modifications of your drawing and highlight what's new compared to a previous time. You can, for example, see what changes were made by another user.
Markups with Predefined Stamps
Quickly add a stamp — "APPROVED" or "FOR REVIEW," among other choices — to a selection of entities
The stamp markups introduced previously have been enhanced with the ability to configure ready-to-use predefined stamps. Use those provided or create your own with custom text.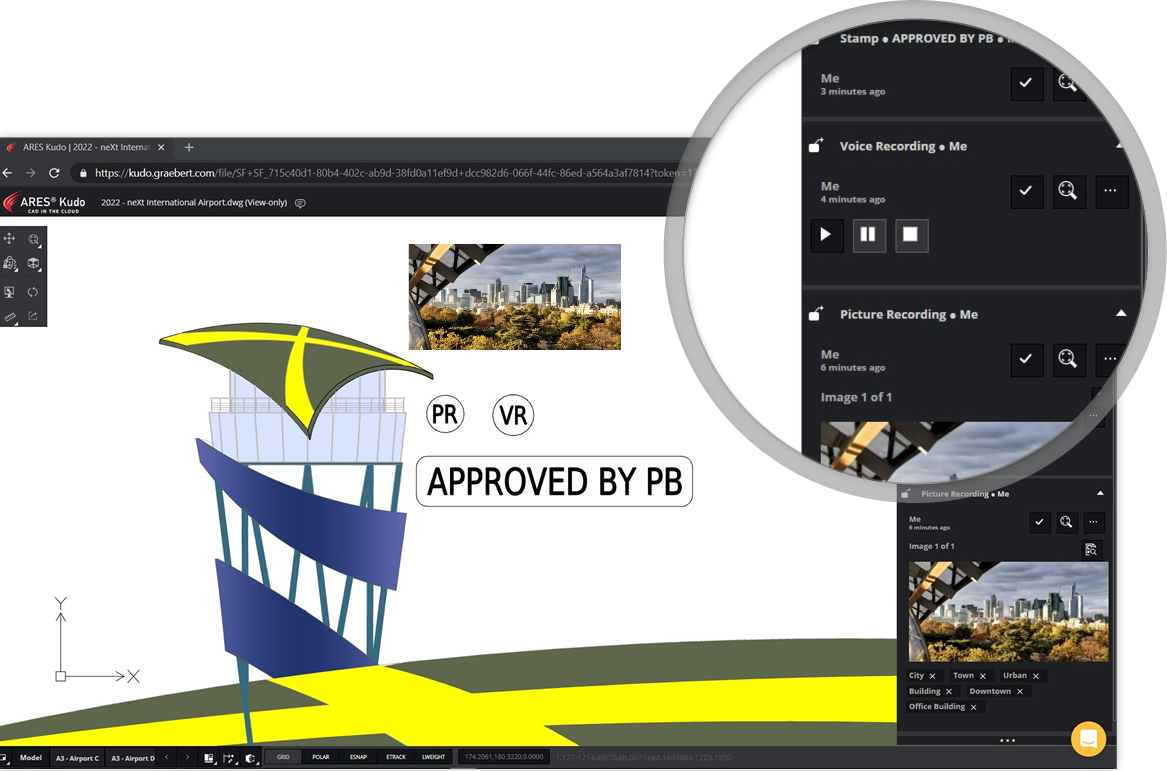 Markups on View-Only Links
Create a URL enabling your contacts to view your drawing online for free, and collect feedback or validation with comments and markups!
Clients and other contacts don't need CAD software — or any CAD knowledge — to share their feedback through View-only links. They can add their input via a browser-based interface, using whichever format they prefer: text, audio, image, or stamp markups. Even non–CAD users find it easy and intuitive to make a voice recording and link it to relevant entities, for example.
Enhanced Control on View-Only Links
New options to define an expiration date and protect with a password
Sharing your drawings as View-only links becomes the easiest, fastest, and most secure method to share read-only access with someone else.
The View-only link can be permanent or time-limited. Adding a password can further restrict access to ensure nobody else can use the link. But most importantly, you can disable the link and revoke access at any time.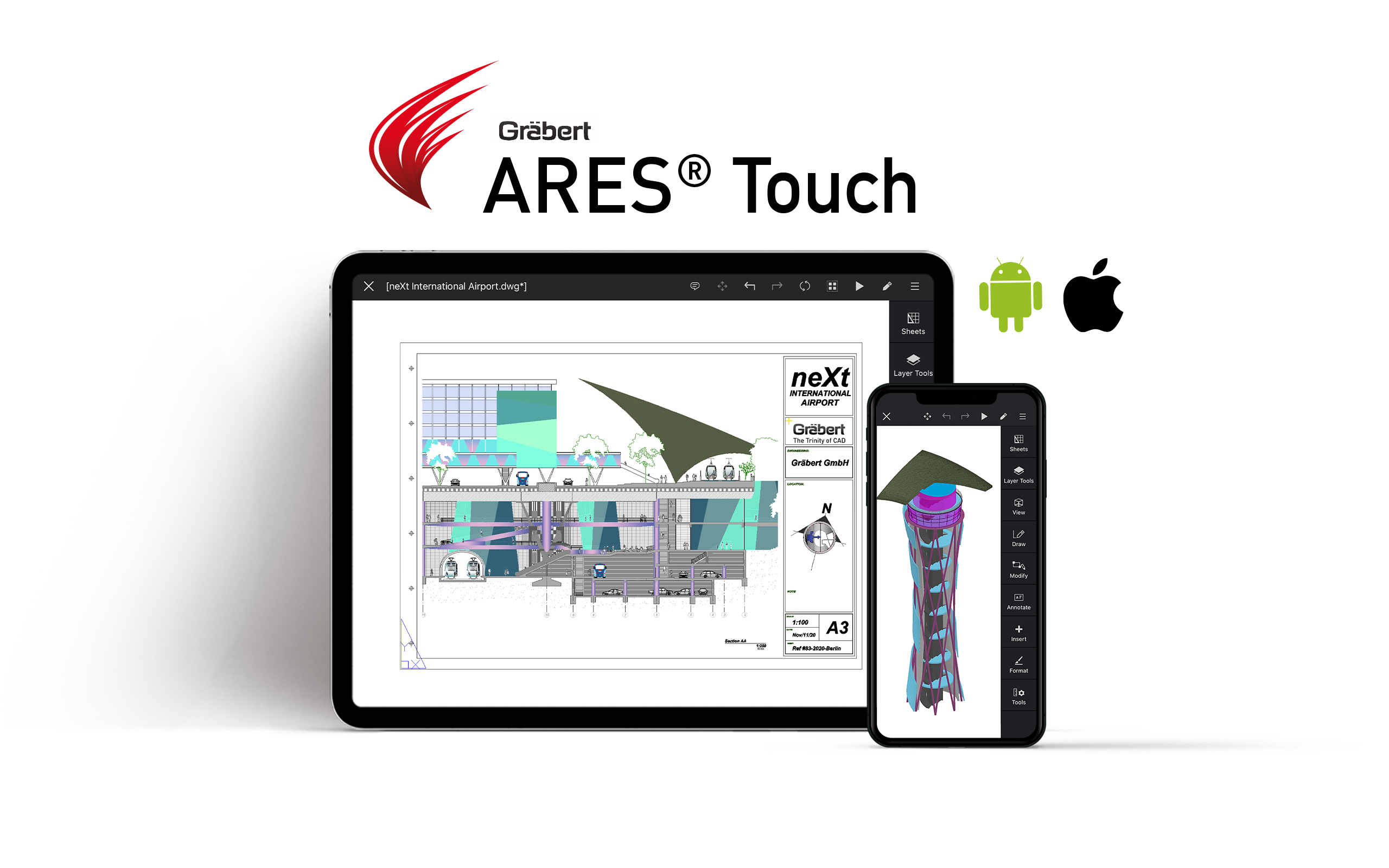 Create View-Only Links from ARES Touch
Now you can also create View-only links from our mobile version
In addition to ARES Commander and ARES Kudo, it is now possible to generate and share View-only links from ARES Touch as well.